04/16/13: Crisis' Tournament Card Image
Posted by King Cold | Comments: 0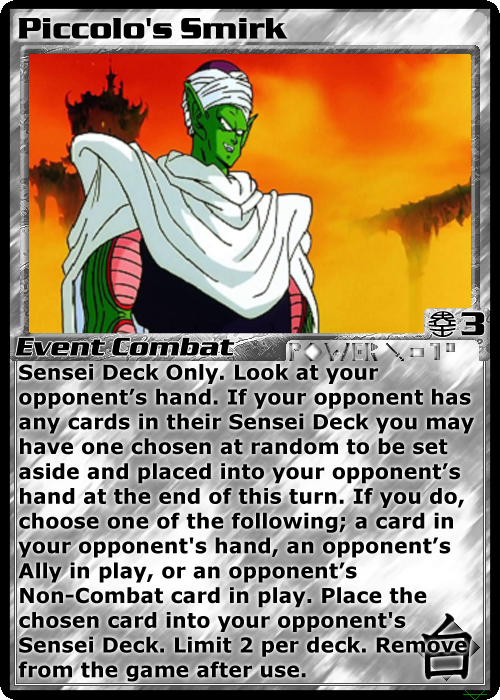 04/11/13: Website is Back Online
Posted by Jarrett | Comments: 15
I've restored a backup of the site - we did lose a couple of days of posts, but the site should be more usable. We'll be fixing things for the next couple of days, so please be patient as the site should be back to normal in no time.
Thanks!
03/31/13: Crisis Wins Release Tournament
Posted by King Cold | Comments: 0
Congratulations for the win. He will have the ability to submit his own card for playtesting.
The winning deck was a NTW Gohan Ball deck.
03/29/13: Dead Zone Release Tournament Finals
Posted by King Cold | Comments: 3
Crisis vs Miyamoto
Players will play each other three times, with whoever wins two of the three games being the winner. The winner of this match will then be able to submit their own card for the game!
I'm giving the both of you a week to get your game in, though you may not need that long. You'll have today (Friday) until the coming Friday at midnight EST.
03/27/13: Unrelated News: Top Tier Gaming Returns!
Posted by Jarrett | Comments: 0
It's more machine now than man...
-Obi-Wan Kenobi, after seeing Top Tier Gaming
I am pleased to announce that Top Tier Gaming (http://toptiergaming.com), the premier website dedicated to Star Wars: The Card Game, is now open!
The Top Tier Gaming website offers a variety of features including an Articles System, Database System, Deckbuilder, and a Community Forum where users can discuss anything related to the Star Wars Living Card Game (LCG)!
In the coming months, we expect to be the number one source for competitive tournament play for the game, even as far as expanding it by an event circuit that offers cash prizes, and more.
We hope you all enjoy our site!
Jarrett
News Archive
Under Fair Use 2009-2013 Dragon Ball Z Online Card Game.
© 2010 BIRD STUDIO/SHUEISHA, TOEI ANIMATION.
Dragon Ball, Dragon Ball Z, and Dragon Ball GT Licensed by FUNimation® Productions, Ltd. All Rights Reserved.